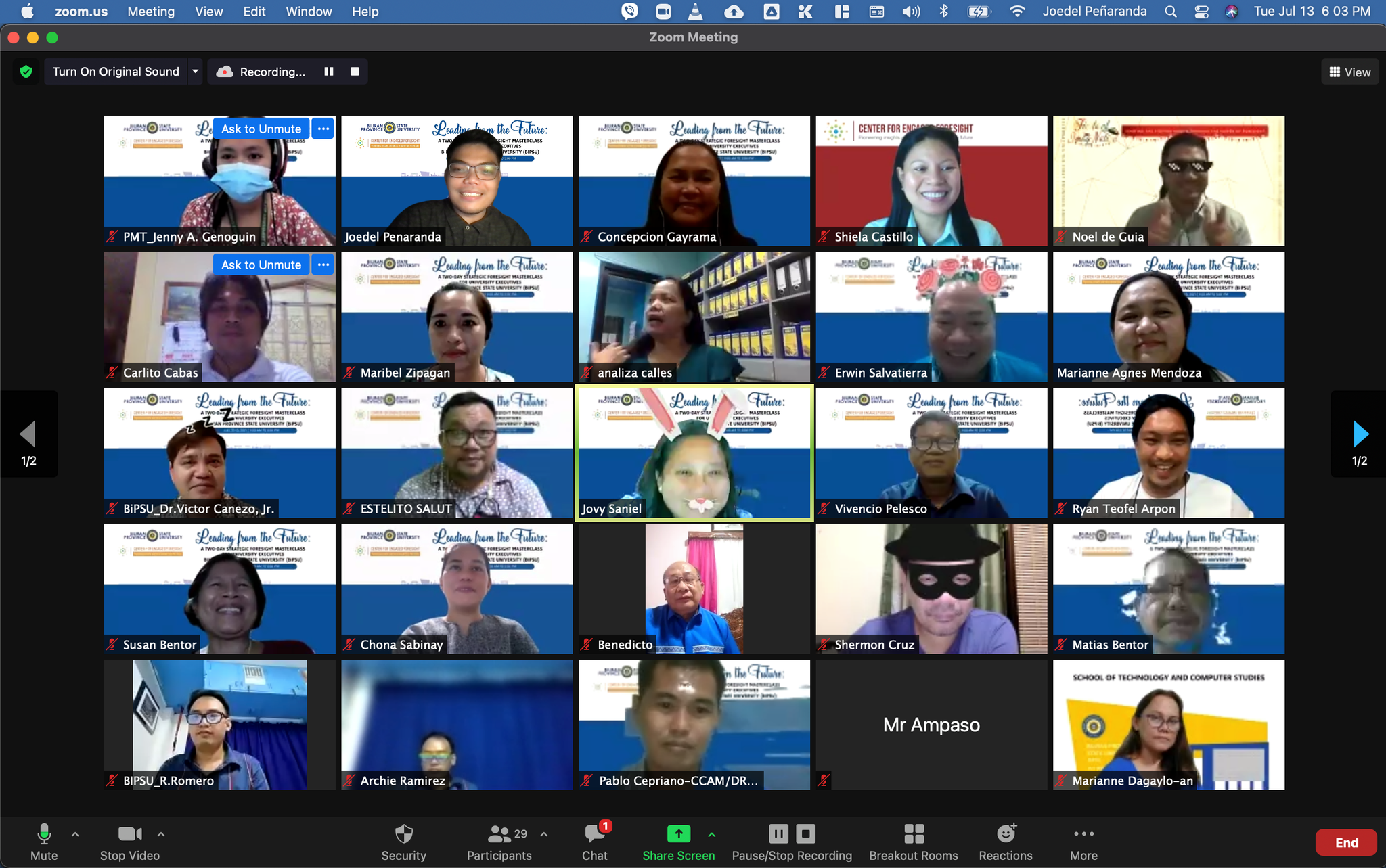 BiPSU

Read Time: 1 min
"While the future is uncertain, organizations should invest in mechanisms to help design and innovate boldly, but responsibly."
This is true for Biliran Province State University (BiPSU) as it hosted a Foresight and Futures-Thinking (FFT) training dubbed as 'Leading from the Future: A Two-Day Strategic Foresight Masterclass' participated by university executives and key leaders last July 12-13 via Zoom.
According to Mr. Joedel Peñaranda, Institutional Planning Officer and the lead organizer of the event, aside from providing a springboard for university officials toward greater understanding and eventual application of FFT in the institution, conducting the two-day masterclass will also prepare BiPSU in its creation of a FFT center in the region.
"This activity could also serve as preliminary preparations for an establishment of a Center for Strategic Foresight and Futures Studies in the region," Peñaranda said.
During the training, participants undergone series of plenary sessions in: (1) What is and Why Futures Thinking?, (2) What is and Why Strategic  Foresight, Anticipatory Leadership and Governance?, (3) What is the Association of Professional Futurists Six Critical Steps to Building Anticipatory Leadership and Governance?, (4) Learning how to use powerful strategic foresight tools and methods, (5) Present and discuss strategic foresight case studies in university and food futures, and (6) Consolidate insights and determine the next steps for BiPSU's futures thinking program and research agenda.
The masterclass convened three of the finest futurists in the country including the Lead Trainer Prof. Shermon Cruz who currently Chairs the Association of Professional Futurists, the largest professional foresight association in the world with a membership of 500 professional foresight practitioners and experts in over 50 countries and the Director and a Futurist at Center for Engaged Foresight (CEF).
During a coordination meeting with BiPSU last May 10, Professor Shermon O. Cruz, said that BiPSU's collaboration with CEF in hosting a masterclass will help the institution in introducing, immersing, exposing and increasing the anticipatory knowledge among its Executive Leadership.
"This is curated to provide key leadership and key officials with the necessary working knowledge and insight to use futures as an asset, resource, and tool to change and transform today," Prof. Cruz added.
Joining also the pool of futurist-trainers are Ms. Shiela R. Castillo, a Futures Learning Advisor at the CEF, and Mr. Emmanuela De Guia, a resident futurist at the Senate Committee on Sustainable Development Goals, Innovations, and Futures Thinking (SDGIFT).
On the other hand, Cabinet Secretary and co-chair of the Inter-agency Task Force for the Management of Emerging Infectious Diseases (IATF-EID) Karlo Alexei B. Nograles was also invited in the activity. In his audio-visual message, he encouraged the participants of the masterclass to 'make the most of it' as it will provide a great opportunity for intensive mentorship and leadership enhancement, advocacy sharpening and project creation to align with the 17 Sustainable Development Goals (SDGs) 2030.
Sec. Nograles also mentioned that the masterclass is proof of the vital need to keep on learning, making time for learning from each other and exploring possibilities with the ultimate goal of serving the people for the better.
Meanwhile, in his message during the opening of the activity, University President Dr. Victor C. Cañezo, Jr. expressed his confidence on the positive outcome of the event, and said that it is relevant since BiPSU is preparing for the Institutional Strategic Planning for the fiscal year 2022.
"I'm confident that this 2-day masterclass will help us arm ourselves with the indispensable skills and information to navigate the future that awaits BiPSU," Dr. Canezo added.
He also looked forward to more endeavors relative to future's thinking, considering that university has been officially announced by Philippine Futures Thinking Society as an its Institutional Member, one among the seven (7) member institutions in the country.